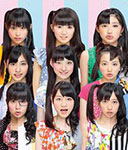 Shiritsu Ebisu Chugaku Ebichu Natsu no Family Ensoku Ryakushite Famien in Kawaguchiko 2013 (私立恵比寿中学「エビ中 夏のファミリー遠足 略してファミえん in 河口湖2013」) will be released on DVD and Blu-ray on December 4.
The concert was held on July 28, 2013 at Kawaguchiko Stellar Theater.
The DVD and the Blu-ray editions include 2 discs featuring the live performance, the making-of, and bonus footage. They come with a 40-page booklet and some photos.
Furthermore, Shiritsu Ebisu Chuugaku's new single Mikakunin Chuugakusei X (未確認中学生X) will go on sale on November 20.
Ebichu will hold a live at Saitama Super Arena on December 8.