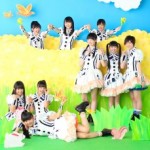 Shiritsu Ebisu Chuugaku Spring DefStar Tonden Tour 2013 ~Chance wa Ima Da! Kouunki ni Notte Yoikorasho~ Koigo no Special (私立恵比寿中学 スプリングデフスターとんでんツアー2013 ~チャンスは今だ!幸運期に乗ってよいこらしょ~ 今後のスケジュール) will be held from April 28 to June 9.
The concerts will take place across Japan in Ishikawa, Aichi Prefecture, Yokohama, Hiroshima, Osaka, Sapporo, Fukuoka, and Tokyo.
Moreover, Ebichu's upcoming single Te wo Tsunagou / Kindan no Karma (手をつなごう / 禁断のカルマ) will go on sale on June 5.
Schedule
28/04/2013 : Shiinoki Cultural Complex, Ishikawa
03/05/2013 : Nagoya
05/05/2013 : Yokohama Blitz
06/05/2013 : Yokohama Blitz
12/05/2013 : Motomachi Credo Pacela, Hiroshima
19/05/2013 : ATC, Osaka
26/05/2013 : Sapporo
02/06/2013 : Fukuoka
09/06/2013 : Tokyo