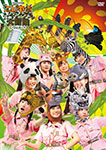 Shiritsu Ebisu Chuugaku Toshiwasure Dai Gakugeikai "Ebichu no Jungle Daiboken" (私立恵比寿中学年忘れ大学芸会「エビ中のジャングル大冒険」) will be released on DVD and Blu-ray on March 13.
The event was held on December 15, 2012 at Nakano Sun Plaza.
The DVD and the Blu-ray includes a making-of for Winter DefStar Tour.
The limited editions also include a gatefold digipak with a 40-page booklet and a postcard.