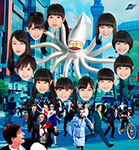 Shiritsu Ebisu Chuugaku Toshiwasure Dai Gakugeikai 2013 "Ebichu no Star Conductor" (私立恵比寿中学 年忘れ大学芸会2013「エビ中のスター・コンダクター」) will be released on DVD and Blu-ray on March 5.
The concert was held on December 8 at Saitama Super Arena. Ebichu performed 25 songs including their latest singles during this live.
The DVD and the Blu-ray editions include making-of footage. They come with a 40-page booklet and a postcard.
Furthermore, 2 new members, Kobayashi Kaho and Nakayama Riko, joined Shiritsu Ebisu Chuugaku. Mizuki, Anno Natsu, and Suzuki Hirono are going to graduate from Ebichu in March.
Setlist
Mikakunin Chuugakusei X (未確認中学生X)
Ebizori Diamond!! (えびぞりダイアモンド!!)
R-O-B-O-C-K
Atashi Kitto Mugen Looper (あたしきっと無限ルーパー)
Kindan no Karma (禁断のカルマ)
Ume (梅)
Tsukatte Portfolio (使ってポートフォリオ)
Atarime (アタリメ) (Mizuki, Mayama Rika)
Yuujou Love Letter (友情ラブレター) (Anno Natsu, Suzuki Hirono)
Kimi no 39 (君に39) (Hoshina Mirei)
Itsuko no Made in Japan (いつかのメイドインジャピャ~ン) (Yasumoto Ayaka, Hirota Aika, Matsuno Rina, Kashiwagi Hinata)
I'm your MANAGER!!!
Yuuwaku Shitai ya (誘惑したいや)
Otona wa Wakattekurenai (大人はわかってくれない)
U.B.U.
Ganbatteru Tochuu (頑張ってる途中)
Ii Yu ka na? (いい湯かな?)
Kaikeiyaku no Cinderella (仮契約のシンデレラ)
Uretai Emotion! (売れたいエモーション!)
Houkago Getabako Rock'n'Roll MX (放課後ゲタ箱ロッケンロールMX)
Lon de Don
– Encore –
Oduru Gariben Chuugakusei (踊るガリ勉中学生)
Te wo Tsunagou (手をつなごう)
Fure! Fure! Cyalume (フレ!フレ!サイリウム)
Eien ni Chuugakusei (永遠に中学生)
Video (Trailer)