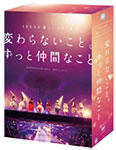 SKE48 Haru Con 2013 ~Kawaranai Koto. Zutto Nakama na Koto~ (SKE48春坤  ~変わらないこと。ずっと仲間なこと~) will be released on DVD on July 27.
SKE48 held 3 live performances during this 2-day event. Each one of them is available separately on 2 discs.
A special box includes all the live performances and a bonus disc featuring making-of footage and a documentary on the graduation ceremony of 9 members. It also comes with a 120-page photobook and 5 pictures.
The spring concert SKE48 Haru Con 2013 was held on April 13-14, 2013 at Nippon Gaishi Hall in Nagoya.
SKE48 Team Shuffle took place on the 1st day. The graduation ceremony of 9 members (Kuwabara Mizuki, Takada Shiori, Hiramatsu Kanako, Akaeda Ririna, Ogiso Shiori, Ueno Kasumi, Hara Minami, Kobayashi Emiri, Yagami Kumi) from the idol group was organized on the 2nd day.
Digest Video