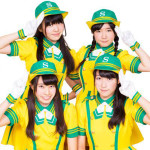 Station♪ (ステーション♪) is a Japanese idol group formed in September 2011.
It currently consists of 4 members. Each one has been assigned a color.
The leader is Minami Nene.
Biography / History
As its name suggests, Station♪ is a train and railway themed idol unit.
Their songs mix various musical styles such as pop, rock and rap.
2 girls withdrew from Station♪ to join other idol groups. Kinjo Narumi is now a member of e-Street Tokyo, while Chiba Nanaki belongs to Idol College.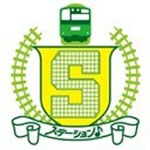 Station♪ hold regular live performances in railway festivals and charity events for the 2011 Tohoku earthquake and tsunami.
Station♪ was created in September 2011. The 3 original members were Kinjo Narumi, Kato Ichika and Minami Nene.
The idol unit held its 1st live performance in September 2011 at Roppongi Morph Tokyo.
The girls participated in the 18th Railway Festival (第18回鉄道フェスティバル) in October 2011. It is the Japan's biggest railway festival. 140,000 people attended the event.
Station♪'s 1st single Susume (ススメ。) was released in March 2012.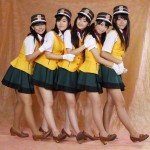 Their TV show Tetsudou no Susume (鉄道のススメ。) started airing on Sky Perfect (スカパー!) in March 2012.
A few days later, the members of the idol group appeared on in-car announcements on JR company trains.
Their 1st album Densha de Go! Go! (電車でGo!Go!) was released in July 2012.
Chiba Nanaki joined Station♪ as a regular member in July 2012.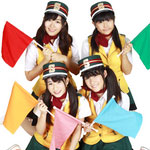 In January 2013, the girls appeared as guests in the anime Train Hero (トレインヒーロー) broadcast on TV Tokyo.
Kato Ichika, Mie Ayaka and Chiba Nanaki graduated in June 2013.
Kenkyuusei members Koike Mami, Kamino Airi and Ishikawa Kinari were promoted as regular members in November 2013.
Station♪ released 3 singles in 3 months between December 2013 and February 2014 : Rush Hour!!! (ラッシュアワー!!!), Wonder Japan @ Station (ワンダージャパン@ステーション♪),  and Ichikoro Motion (いちころモーション♪).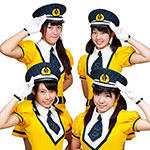 In February 2014, Station♪ participated in a crowdfunding campaign (三陸鉄道リアルクラウドファンディングイベント) for the reconstruction of the Sanriku Railway line heavily damaged by the 2011 Tohoku earthquake and tsunami.
Koike Mami appeared on the drama Exte Musume (エクステ娘) in February 2014.
Minami Nene, Koike Mami and Kamino Airi played in the movie Kowasugiru Hanashi (怖すぎる話 劇場版) in November 2014.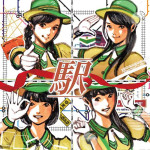 Their 2nd album Eki (駅) went on sale in March 2015. The CD cover illustrations were drawn by Kiriki Kenichi who is the author of the manga Tokyo Shutter Girl (東京シャッターガール). They are featuring the the idol group members as manga characters.
Profile
Station♪ (ステーション♪)
Years active : 2011 – present
Label : Jolly Roger
Agency : Jolly Roger
Members
Minami Nene (南寧々) – Nenechi (ねねち) – Blue
Ishikawa Kinari (石川きなり) – Kinarin (きなりん) – Yellow
Koike Mami (小池真実) – Mamitan (まみたん) – Pink
Kamino Airi (神野愛莉) – Airin (あいりん) – Red
Former Members
Kinjo Narumi (金城成美)
Kato Ichika (加藤一華)
Mie Ayaka (三江彩花)
Chiba Nanaki (千葉奈々希)
Discography
Singles
01/02/2012 : Susume (ススメ。)
14/03/2012 : Let's Go Tetsudo Idol (レッツゴー鉄道アイドル)
25/04/2012 : Kinenbi ni Aimashou (記念日に逢いましょう)
10/09/2012 : Love Happy Station (Love ハッピーステーション)
13/02/2013 : To Ki Do Ki Fumikiri (To・Ki・Do・Ki 踏切)
18/12/2013 : Rush Hour!!! (ラッシュアワー!!!)
22/01/2014 : Wonder Japan @ Station (ワンダージャ@ステーション♪)
26/02/2014 : Ichikoro Motion (いちころモーション♪)
14/10/2014 : Train=Train=Train=Train
Albums
11/07/2012 : Densha de Go! Go! (電車でGo!Go!)
25/03/2015 : Eki (駅)
Links
News