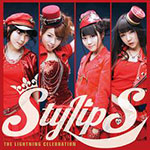 StylipS' best-of album The Lightning Celebration will be released on April 24.
The album contains 13 songs including the previous singles of StylipS.
It includes solo songs performed by the members of the idol group.
The limited editions come with either a Blu-ray or a DVD featuring music videos and bonus footage.
Furthermore, Ogura Yui and Ishihara Kaori announced their graduation from StylipS.
Tracklist
CD

The Lightning Celebration
Study × Study
Baby Kiss (ベイビィKiss☆)
Seishun Plan (セーシュンプラン)
Blue Moon Dream feat. Noto Arisa
Fragile Crazy (Romance Edit)
Honey Groove
Tsu・Ba・Sa
Miracle Rush
Hatsukoi Evolution (初恋Evolution)
Choose Me Darling (Choose Me♡ダーリン)
Wagamama Buddy feat. Noto Arisa (わがままバディー)
Brand-new Style!! ~Mahou Mitai na Show Time~ (Brand-new Style!! ~魔法みたいなShow Time~)
CD2 (Type A)

Study × Study feat. Ogura Yui (Lesson3 in Wonderland)
Hatsukoi Evolution feat. Matsunaga Maho (初恋Evolution)
Tsu・Ba・Sa feat. Ishihara Kaori
Miracle Rush feat. Noto Arisa
Honey Groove feat. Matsunaga Maho
Choose Me Darling feat. Ogura Yui & Ishihara Kaori (Choose Me♡ダーリン)
Baby Kiss feat. Noto Arisa (ベイビィKiss☆)
Brand-new Style!! ~Mahou Mitai na Show Time~ feat. Ishihara Kaori (Brand-new Style!! ~魔法みたいなShow Time~)
Miracle Rush feat. Ishihara Kaori
Fragile Crazy feat. Ogura Yui
Brand-new Style!! ~Mahou Mitai na Show Time~ feat. Matsunaga Maho (Brand-new Style!! ~魔法みたいなShow Time~)
Choose Me Darling feat. Noto Arisa & Matsunaga Maho (Choose Me♡ダーリ)
Baby Kiss feat. Ogura Yui (ベイビィKiss☆))
Tsu・Ba・Sa feat. Noto Arisa
Blu-ray (Type A) / DVD (Type B)

Study × Study (Music Video)
Miracle Rush (Music Video)
Choose Me Darling (Choose Me♡ダーリ) (Music Video)
Study × Study (Lesson Style)
Miracle Rush (Lesson Style)
Choose Me Darling (Choose Me♡ダーリ) (Lesson Style)
Study × Study (Making Style)
Miracle Rush (Making Style)
Choose Me Darling (Choose Me♡ダーリ) (Making Style)
Study × Study (CM Style)
Miracle Rush (CM Style)
Choose Me Darling (Choose Me♡ダーリ) (CM Style)
Dharma Otoshi Battle!! (ダルマ落としBattle!!)