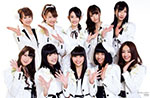 Super☆Girls Live Tour 2013 ~Celebration~ at Shibuya Kokaido (渋谷公会堂) will be released on DVD and Blu-ray on August 7.
The setlist includes 22 songs performed by Super☆Girls during this live.
The concert was recorded on March 3, 2013 at Shibuya City Hall in Tokyo.
The Blu-ray edition comes with a bonus disc featuring a 60-minute documentary including backstage and making-of footage.
Furthermore, Super☆Girls' latest single Tokonatsu High Touch (常夏ハイタッチ) is on sale since June 12.
Tracklist
Disc 1

Welcome to ♥ S☆G Show!! III
Dream Seeker
Renai Manifest (恋愛マニフェスト)
Joshiryoku←Paradise (女子力←パラダイス)
Ganbatte Seishun (がんばって青春)
Tokimeki Iro no Kaze to Kimi (ときめき色の風とキミ)
Minamikaze Payapaya (南風パヤパヤ)
Muchuu Material (夢中マテリアル)
Junjou Cinderella (純情シンデレラ)
Exit
Kizuna Days (絆デイズ)
Renai Rule (恋愛ルール)
Yakusoku no Hanataba (約束の花束)
Akai Jounetsu (赤い情熱)
Yume no Enryoku (夢の引力)
Puri Puri Summer Kiss (プリプリ♥Summerキッス)
Max! Otomegokoro (Max!乙女心)
EveryBody Jump!!
– Encore –
Rave Together!!!
1,000,000 Smile (1,000,000☆スマイル)
Celebration
Miracle ga Tomannai! (みらくるが止まンないっ!)
Disc 2 (Blu-ray)

Live Documentary Shuuroku (ライブ当日ドキュメンタリー収録)