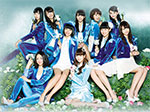 Super☆Girls' new album Chouzetsu Best 2010-2014 (超絶少女☆Best 2010〜2014) will be released on March 26.
As its title suggests, Chouzetsu Best 2010-2014 includes the greatest hits by Super☆Girls since the creation of the idol group in 2010.
The DVD and the Blu-ray editions include all the MV and bonus footage.
The CD only edition contains 2 bonus tracks.
Furthermore, Super☆Girls' new single Sorairo no Kiseki (空色のキセキ) will go on sale on February 12.
Super☆Girls Live 2014 ~Chouzetsu Kakumei~ (~超絶革命~) will be held on February 23 at Pacifico Yokohama.
Yasaka Saori's graduation ceremony will take place during this concert.
Tracklist
CD

Miracle ga Tomannai! (みらくるが止まンないっ!)
Ganbatte Seishun (がんばって 青春)
Max Otome Gokoro (Max!乙女心)
Joshi Ryoku Paradise (女子力←パラダイス)
EveryBody Jump!!
1,000,000 Smile (1,000,000☆スマイル)
Puri Puri Summmer Kiss (プリプリ♥Summerキッス)
Akai Jounetsu (赤い情熱)
Celebration
Pan-Paka-Pan!
Tokonatsu High Touch (常夏ハイタッチ)
Sentimental Journey (センチメンタル・ジャーニー)
Toshishita no Otokonoko (年下の男の子)
Jin Jin Jingle Bell (ジン ジン ジングルベル)
Sorairo no Kiseki (空色のキセキ)
– Bonus Track –
Believe in Love
Asia no Junshin (アジアの純真)
Blu-ray

Music Video

Miracle ga Tomannai! (みらくるが止まンないっ!)
Ganbatte Seishun (がんばって 青春)
Max! Otome Gokoro (Max!乙女心)
Joshi Ryoku Paradise (女子力←パラダイス)
EveryBody Jump!!
1,000,000 Smile (1,000,000☆スマイル)
Puri Puri Summer Kiss (プリプリ♥Summerキッス)
Akai Jounetsu (赤い情熱)
Celebration
Pan-Paka-Pan!
Tokonatsu High Touch (常夏ハイタッチ)
Sentimental Journey (センチメンタル・ジャーニー)
Toshishita no Otokonoko (年下の男の子)
Jin Jin Jingle Bell (ジン・ジン・ジングルベル)
Sorairo no Kiseki (空色のキセキ)

Bonus Footage

Document】iDOL Street Carnival 2013 WINTER X'mas Special ~Kore ga Watashi no Idol Michi~ (~これが私のアイドル道~)
Super Girls Members Meeting (Super☆Girlsメンバー座談会)
SupaGa Tsuushin (スパガ通信(仮))

DVD

Music Video

Miracle ga Tomannai! (みらくるが止まンないっ!)
Ganbatte Seishun (がんばって 青春)
Max! Otome Gokoro (Max!乙女心)
Joshi Ryoku Paradise (女子力←パラダイス)
EveryBody Jump!!
1,000,000 Smile (1,000,000☆スマイル)
Puri Puri Summer Kiss (プリプリ♥Summerキッス)
Akai Jounetsu (赤い情熱)
Celebration
Pan-Paka-Pan!
Tokonatsu High Touch (常夏ハイタッチ)
Sentimental Journey (センチメンタル・ジャーニー)
Toshishita no Otokonoko (年下の男の子)
Jin Jin Jingle Bell (ジン・ジン・ジングルベル)
Sorairo no Kiseki (空色のキセキ)
Believe in Love
Asia no Junshin (アジアの純真)

Bonus Footage

SupaGa Tsuushin (スパガ通信(仮))