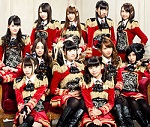 Super☆Girls will hold Music Ribbon campaign from January 18 to February 16.
The aim of this campaign is to make people know Super☆Girls. The members will meet their fans across Japan, perform showcase, give a high five to the audience and free CDs of theiir latest song Celebration.
Website has been opened to give further information. A special version of Celebration can be downloaded for free.
Moreover, Super☆Girls announced that they will hold a live at Nippon Budokan on June 11.
Schedule
18/01/2013

Time : –
Venue : Sapporo Factory Atrium, Hokkaido
19/01/2013

Time : –
Venue : Tower Records Sendai Parco Store, Miyagi
25/01/2013

Time : –
Venue : Kyoto Station Square, Kyoto
26/01/2013

Time : –
Venue : Nagoya Oasis 21, Aichi
28/01/2013

Time : –
Venue : Hankyu Nishinomiya Gardens, Hyogo
03/02/2013

Time : –
Venue : Emifull Masaki, Ehime
15/02/2013

Time : –
Venue : Yale Yale, Hiroshima
16/02/2013

Time : –
Venue : Canal City, Fukuoka