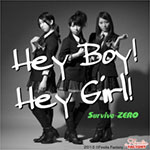 Survive-Zero's new single Hey Boy! Hey Girl! will be released on December 22.
This is the 17th single from Survive-Zero. 3 editions are available.
The CD will be on sale at Survive-Zero 5th Live Colors ~Anata Iro ni Somaru Yoru~ (5thワンマンライブ 『colors ~あなた色に染まる夜~』) on December 22 at Shibuya Glad in Tokyo.
Sample