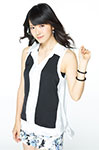 Suzuki Airi's new photobook Oyoganai Natsu (泳がない夏) will be released on August 20.
It is the 1st photobook of Suzuki Airi (°C-ute) since her graduation from high school.
The shooting was done in the city of Hakodate in Hokkaido. The pictures show Suzuki Airi having various activities during her summer holidays.
The book comes with a bonus DVD featuring making-of footage.
The photos were taken by Nishida Kouki.