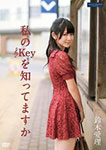 Suzuki Airi's new solo DVD Watashi no Key wo Shittemasu ka (私のKeyを知ってますか) will be released on September 25.
It is the 7th solo DVD from the member of °C-ute and Buono!.
It features various scenes and making-of footage of her latest photobook.
Suzuki Airi's photobook Oyoganai Natsu (泳がない夏) is on sale since August 20.