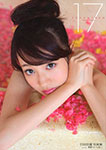 Ishida Karen's new photobook 17 Seventeen was released on February 14.
17 Seventeen is Ishida Karen's 2nd photobook. The photo shooting was done in Bali, Indonesia, in November. It includes pictures of the idol wearing swimsuit, playing with dolphins and turtles, taking a flower bath…
Ishida Karen is the member #28 of Idoling!!!. As the title suggest, she is 17 years old.