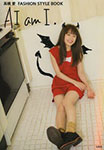 Takahashi Ai (ex Morning Musume) will release her 1st style book Ai Am I on October 18.
This book includes photos of over 200 private clothes of her.
In Ai Am I, she explains how she selects her clothes from fashion brands such as H&M and Topshop, and she gives ideas on how matching outfits.
Takahashi Ai also gives advice on how to makeup by oneself, and more.
It includes an interview with Ai-chan.