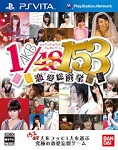 The video game AKB1/153 Renai Sousenkyo (AKB1/153 恋愛総選挙) will be released on December 20.
AKB1/153 Renai Sousenkyo is a dating simulation featuring the 153 members of AKB48, SKE48, NMB48 and HKT48.
The special edition includes AKB48 making of video (4 DVD, 400mn), SKE48 making of video (3 DVD, 300mn), NMB48 making of video (2 DVD, 200mn), HKT48 making of video (1 DVD, 100mn). It also comes with a special photobook (more than 150 pages), 10 pictures and special download contents.
The game is available on PlayStation Portable and PlayStation Vita.