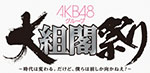 AKB48 Group Dai Sokaku Matsuri (AKB48グループ大組閣祭り~時代は変わる。だけど、僕らは前しか向かねえ!~) was held on February 24, 2014 at Zepp DiverCity in Tokyo.
This event was the 3rd big shuffle of the 48 Family groups. Several transfers between the units and concurrent positions have been announced : Ikoma Riona (Nogizaka46 / AKB48), Matsui Rena (SKE48 / Nogizaka46), Miyazawa Sae (SNH48 / SKE48), Kashiwagi Yuki (AKB48 / NMB48), Chikano Rina (JKT48)…
Check out the new line-ups of AKB48, SKE48, NMB48 and HKT48 after this team shuffle.