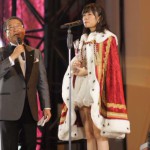 The 7th AKB48 Senbatsu General Election 2015 (第7回AKB48選抜総選挙2015) was held on June 6 at Fukuoka Dome.
The results of the AKB48 41st Single Senbatsu Sousenkyo (AKB48 41stシングル 選抜総選挙) were announced. Sashihara Rino ranked 1st with 194,049 votes. Kashiwagi Yuki and Watanabe Mayu came in 2nd and 3rd position with respectively 167,183 and 165,789 votes.
The live stream has ended. Check out the final results.