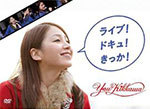 Kikkawa You's DVD Live! Docu! Kikka! (ライブ! ドキュ! きっか!) will be released on January 16.
The DVD includes her concerts Kikka Fes ~Episode 3~ (きっかフェス~Episode3~) held on July 29 and Kikka Fes 4 You (きっかフェス 4 You) held on October 6.
It also features a documentary on Kikkawa You's live performances overseas at Anime Weekend Atlanta (USA) and Japan Expo (France and Belgium).