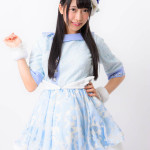 Aoyama Reina announced her graduation from Flap Girls' School.
Since she is going to be a 4th-year student at university next month, Aoyama Reina decided to leave the idol group in order to focus on studies and job hunting.
She will pursue activities until her graduation which is scheduled in 2 months after a live tour in Tokyo, Nagoya and Osaka.