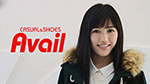 Watanabe Mayu (AKB48) was appointed as an image model for Avail (casual & shoes).
The TV commercial for the collection Avail 2014 Autumn Winter Watanabe Mayu (Avail 2014秋冬 渡辺麻友) is on air in Japan since October 8th.
The CM song is Watanabe Mayu's new solo song Onnanoko Nara (女の子なら).
Check out the video, its making-of and some photos.