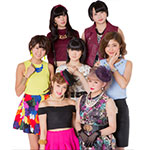 Berryz Kobo's new album Berryz Kobo Special Best Vol.2 (Berryz工房 スッペシャル ベスト Vol.2) will be released on February 26.
As its name suggests, this is the 2nd best-of album from the idol group. 2 versions are available.
The CD contains 17 songs including Berryz Kobo's greatest hits released since 2009, and the 2013 version of their debut single Anata Nashi de wa Ikite Yukenai (あなたなしでは生きてゆけない).