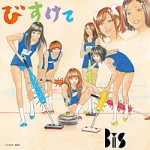 BiS' mini-album Bisukete (びすけて) will be released on September 26.
The CD contains 6 tracks, including their major debut single PPCC, previous indies singles, and a cover of survival dAnce ~no no cry more~ (originally performed by TRF).
This mini-album is a limited edition that will only be sold at Village Vanguard stores.