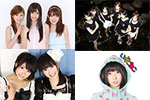 Manaminorisa, Shizuka & Kizuna, Mary Angel, Izukoneko, Smile Gakuen, Frupoche, and other idol groups will perform at the 14th Yan Yan Utau Stage in Hamamatsu! (第14回ヤンヤン歌うステージ in 浜松!).
The festival will take place on April 14 at Live House Hamamatsu Madowaku.
2 lives performances are schedule, one at noon and the other on the afternoon.