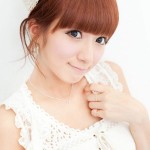 Minna Happy! Mama no Uta (みんなハッピー!ママのうた) is the solo debut album of Tsuji Nozomi (辻希美). It was released on November 24, 2010.
Tsuji Nozomi is a Japanese pop singer. Her daughter Noa participated in the album and the total length of the songs is 39:13.
This album contains covers of various opening and ending themes, and also features one original song, Chibi Devil.