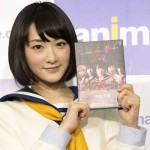 A sequel to horror movie Corpse Party, starring Ikoma Rina (Nogizaka46), is slated for production.
Ikoma Rina plays the role of a student named Nakashima Naomi.The other main cast members are also back : Ikeoka Ryosuke, Maeda Nozomi and Jun (Bee Shuffle).
With console game and comic book sales reaching more than 100,000 and 1 billion respectively, and with forays into novelizations, original animes, and a drama CD (voice dramatization), the live action horror adventure game Corpse Party, the live action film was a smash hit when it was released in August 2015.