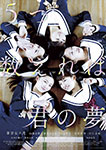 Tokyo Girls' Style members are starring in the movie Count 5 to Dream of You (5つ数えれば君の夢) which was released on March 8 in Japanese theaters.
The story takes place in a high school during a cultural festival. It depicts various painful scenes of adolescence. Tokyo Girls' Style members (Yamabe Miyu, Konishi Ayano, Arai Hitomi, Nakae Yuri, Shoji Mei) are playing the leading roles as students.
Check out the trailer.