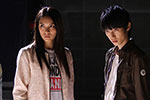 Former AKB48 member Akimoto Sayaka will be starring in the movie Doreiku Boku to 23-nin no Dorei (奴隷区 僕と23人の奴隷).
The story is based on a popular manga of the same name by Okada Shinichi published on the website E☆Everystar (E☆エブリスタ). 23 people participate in a game and can use a special item to turn other players into their slaves.
The trailer has been released.