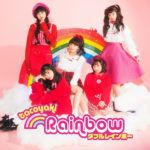 Tacoyaki Rainbow released their new album Double Rainbow on February 21st.
This is the 2nd album of the rainbow idol group.
The album contains a total of 12 songs including the latest singles such as : Rainbow ~Watashi wa Watashi Yanenkara~ and Money!! Money!? Money!!.
In MV for the song Sotsugyou Love Tasty, we see the members of Tacoyaku Rainbow dancing on the stage at the rhythm of a slow love ballad. Softness is added with the adorable outfits of the idol group.