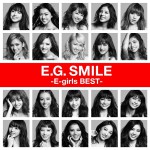 The new best-of album of E-Girls E.G. SMILE -E-Girls BEST- will be released on February 10th.
This is the first greatest hits album of E-girls and it includes all the singles of the dance and vocal unit released since its debut.
The MV for Dance with Me Now!! and the tracklists were unveiled.