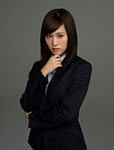 Former AKB48 member Maeda Atsuko will be starring in the movie Eight Ranger 2 (エイトレンジャー2).
Maeda Atsuko is going to play as Saigo Jun who is a reporter for a weekly magazine. She follows sentai superheroes, performed by the members of the band Kanjani8 (関ジャニ∞), in their activities.
Eight Ranger 2 will be released this summer.