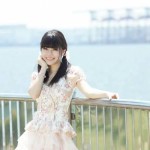 Maruyama Karin (丸山夏鈴) is a special idol. For those who don't know her,  she has a cancer and a brain tumor. Nevertheless, she pursues her activities despite the disease in order to realize her dreams.
Our friends at Pure Idol Heart published an article about the story of Maruyama Karin.
Her new single Eternal Summer was released on February 28.