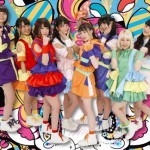 FES☆TIVE's new single Susume Zipangu (進めジパング) will be released on March 16th.
It is a catchy song whose theme is "from festive Japan to the World". The lyrics include words such as "sushi" or "samurai" which symbolize the Land of the Rising Sun.
FES☆TIVE members perform an energetic dance in the MV.