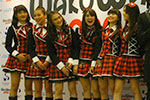 JKT48's 5th single Flying Get will be released on March 5.
The list of the Senbatsu members has been unveiled.
The announcement was made on February 16 at WakuWaku Japan Music Festival held at Jakarta Convention Center.
Flying Get is the tie-up song for the TV CM for WakuWaku Japan in which the members of JKT48 are making an appearance.