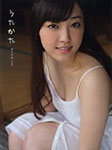 Fukumura Mizuki's new photobook Utaka (うたかた) will be released on June 25.
The photo shooting was done in Okinawa. Utakata includes pictures of Morning Musume '14 member Fukumura Mizuki on the beach, at the swimming pool and in other places wearing swimsuits and various outfits.
The book comes with a bonus DVD featuring making-of footage.