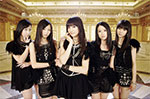 Tokyo Girls' Style new single Get the Star / Last Forever will be released on September 25.
It is a double A-side single.
The Type A and B editions come with a DVD. The content hasn't been revealed yet.
The Type C edition includes a remix song as a bonus track.
The songs were written by J (Luna Sea) and produced by Hisashi Kondo (Agehasprings).