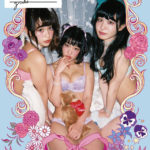 In April, 4 out of 8 members of idol unit FES☆TIVE tried their hand at gravure modeling.
FES☆TIVE evokes visions of the group's energetic live performance which have taken the idol scene by storm. However, in 2017, we shift our focus to the lives of the individual members as they pose for gravure photos.
The 4 FES☆TIVE members who have forayed into the world of gravure idols are Aoba Hinari, Sakamoto Yuna, Suzuki Kotone, and Shiraishi Piano.