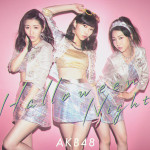 On July 4, AKB48 revealed their 41st single on Music Day show. The position of the members has been defined at the AKB48 Senbatsu General Election 2015.
The title of this single is Halloween Night (ハロウィーン・ナイト).
The center is Sashihara Rino.
Cbeck out the short version of the MV and the photos of the costumes.