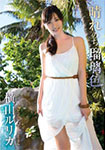 Yokoyama Rurika (Idoling!!!) will release her new solo DVD Hare Nochi Ruri Iro (横山ルリカ/晴れのち瑠璃色) on August 30.
The filming was done in Saipan a tropical resort. The DVD has 58-minute footage of the 1st generation member of Idoling!!! playing various scenes including some in swimsuit.
Furthermore, Yokoyama Rurika's 2nd solo single Your Voice, My Life will go on sale on October 9.