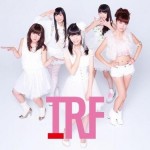 Idoling!!!, Super☆Girls, Cheeky Parade, Tokyo Girls' Style, Dream5, and BiS will release a collaboration album titled TRF Respect Idol Tribute (TRF リスペクトアイドルトリビュート) on December 19.
A special unit called IRF (Idol Rave Factory) was formed. It consists of Tachibana Yurika (Idoling!!!), Shoji Mei (Tokyo Girls' Style), Suzuki Yuriya (Cheeky Parade), Hibi Mikoto (Dream5) and Pour Lui (BiS).
Each idol group sings a cover of TRF.
The limited edition includes a DVD featuring music video and bonus footage.
This project celebrates the 20th anniversary of the debut of TRF. Their best-of album TRF 20th Anniversary Complete Single Best will be released on November 21.