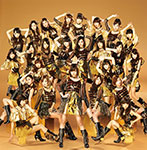 Idoling!!! 13th Live Shijou Saidai! 25-nin no Daisakusen-ng!!! Hare, Tokidoki Kami (アイドリング!!!13th Live 史上最大!25人の大作戦グ!!! 晴れ、時々神) will be released on Blu-ray on March 19.
The concert took place on December 8, 2013 at Nakano Sunplaza in Tokyo.
The Blu-ray includes 2 discs with the 2 live performances held on that day.