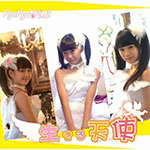 RynRyn Drop's new single Ikiru Tenshi (生きる天使) will be released on December 11.
Only one edition is available. The CD includes 2 songs.
On this single, the members of RynRyn Drop are turning into angels to show a new side of the idol group and to perform a fun song.