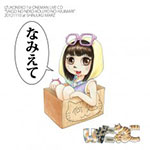 Izukoneko's 1st live album Namiete (なみえて) will be released on April 3.
The album contains 14 songs, including a new one titled e.c.i.n.
The performance was recorded during Izukoneko 1st one-man Live ~Saigo no Neko Koujou no Hajimari~ at Shinjuku Marz (いずこねこ1stワンマンライブ~最後の猫工場のはじまり~) held on November 10, 2012. This event celebrated her debut 1st anniversary.