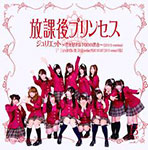 Houkago Princess' new single Juliet ~Kimi wo Suki na 100 no Riyuu~ (ジュリエット ~君を好きな100の理由~) (2013 version) is released on May 15.
It includes a 2013 version of their previous singles and original songs.
4 editions featuring different coupling songs are available. Each CD contains 3 or 4 tracks and their instrumental versions.