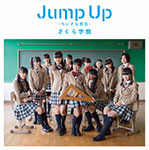 Sakura Gakuin's new single Jump Up ~Chiisana Yuuki~ (Jump Up ~ちいさな勇気~) will be released on February 12.
This is the 7th single from Sakura Gakuin. 3 versions are available.
Horiuchi Marina, Iida Raura, Sugisaki Nene, and Sato Hinata are making their last appearance with the idol groupon this CD as they are going to graduate next Spring.
The MV has been released.