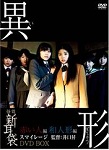 The film series Kaidan Shin Mimibukuro Igyou (怪談新耳袋 異形) starring S/mileage will be released on DVD and blu-ray on December 5.
The horror movies are based on the TV series Tales of Terror from Tokyo and All Over Japan. They were directed by Iguchi Noboru.
Each volume features 2 episodes. It also includes various bonus : trailer, TV spot, audio commentary by the director, S/mileage making-of and interview, event footage.