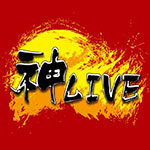 Dorothy Little Happy, AeLL, Party Rockets, Seishun Gakuen, Alice Juban, Steamgirls, Kotone Mai, Lovely★Doll (愛乙女★Doll), Kaiketsu! Tropical Maru, KNU, and more idols will perform at Kami Live Vol.6 (神Live Vol.6).
The concert will be held on June 30 at Tokyo Kinema Club.
A total of 13 or 14 idol group will participate in the event. Each live performance will last approximately 30 minutes.