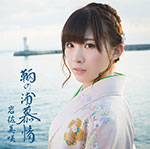 Iwasa Misaki's new single Tomo no Ura Bojou (鞆の浦慕情) will be released on January 8.
This is the 3rd solo single of Iwasa Misaki. She is a member of AKB48 Team B and a enka singer.
The coupling track is the enka version of AKB48's hit song Koi Suru Fortune Cookie (恋するフォーチュンクッキー).