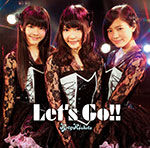 Party Rockets' new single Let's Go will be released on April 9.
This is the 4th single from Party Rockets. It was produced by Eric Martin, who is a former member of the rock band Mr. Big, and Hachimoto Keiichi.
The coupling song Dear Friend (ディアフレンド) was recorded with Watanabe Koume before that she left the idol group to join Super☆Girls.