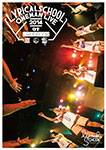 The concert of Lyrical School entitled lyrical school oneman live 2014 at LIQUIDROOM was released on DVD on January 27.
The tracklist was revealed.
The DVD contains a video of Lyrical School's solo live held at Liquidroom in Tokyo on November 2, 2014. The members of Lyrical School sang several of their songs, including ones which were released as singles and the ones when the group was known as Tengal6.